Envision Music Festival 2023 - 'The Utopian Jungle Experience'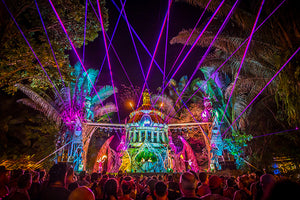 by Aoibhín Sheehy
From February 27th until March 6th you can head to Costa Rica for seven days of movement, spirituality, music art, health, sustainability and education, making Envision Festival so much more than just a music festival. Situated three hours from San José Central outside Uvita between the beach and reclaimed jungle you're sure to have an illuminating experience. Dance your heart away and free your inner gypsy in the jungle, what better way to welcome in the spring!
As with most music festivals the possibility of a wild time full of adventures is one of the main reasons to get those gypsy dancing shoes on (or barefoot if that's your vibe!). Letting your hair down and forgetting about all the outside world stuff is why we all love music festivals. And what better place to dance all this away than under the canopy of the reclaimed jungle. But that's not all that Envision has to offer, you can soak up the sandy beaches, splash in the waterfalls, play, learn and leave feeling more wholesome! As this is not just a music festival...
Envision festival has '5 Pillars' by which they operate; Sustainability, Health, Movement, Education, Art, Spirituality and Music. Their mission is to 'create an eye-opening experience that turns [us] onto a new form of living; a new way to be inspired' Not only will you get to stomp around the jungle but this music festival is set to be filled with connection. Connection to nature, mother earth and connection to community and people. 
So what are the fashion essentials to bring with you on this gypsy jungle dance adventure?? Needless to say that having a dance hands-free is a must. Our broad range of utility belts & holster bags offer just this!
Hexagon Bee Utility Holster Bag
View this product>>
Belenus Steampunk Double Pocket Belt
View this product>>
The most important thing when you're floating through the jungle, whether that be dancing at a rave, stretching all the stress out at a yoga workshop, is that you're comfortable. And our Organic Cotton range is just that, naturally comfortable and breathable.
Laya Organic Cotton T-shirt
Chelsea cropped organic leggings
Parvati Organic Tank
View this product>>