How to prepare for Burning Man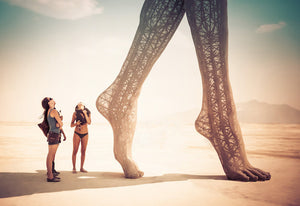 by Aoibhín Sheehy
The Burning Man Festival is a week-long, self-sustaining event held annually in the Black Rock Desert of Nevada. This festival is known for its unique experience, filled with art installations, performances, and music. With people able to really express their unique style, whether that be a burner or playa outfit the desert allows for everyone to express who they are! The festival encourages creativity, community, and self-expression, with participants required to contribute to the event in some way. To make the most out of your Burning Man experience, it's important to prepare thoroughly beforehand, pack all your essential items, your utility belt, holster bag and outfits you'll need! Here are some tips on how to prepare for the Burning Man Festival:

1. Pack Wisely
When preparing for Burning Man, it's essential to pack light and wisely. This event is self-sustaining, so you will need to bring everything you need for the week, including food, water, shelter and your favourite outfits. Remember to pack durable and comfortable clothing suitable for desert conditions, including sturdy boots or shoes, hats, sunglasses, and lightweight fabrics that offer sun protection and allow you to express your unique style. Ensure you are hands free with either a utility belt or a holster bag.
2. Stay Hydrated
It may feel like the playa but be warned the Black Rock Desert can get incredibly hot, with temperatures often rising upwards of 100°F/37
°C. In these conditions, it's essential to stay hydrated. Bring plenty of water for yourself and prepare for others to ask for refills. Other things you can also bring to dress up water, like Pedialyte, can be helpful to refresh your body. 

3. Embrace the Dust
The Black Rock Desert is a stunningly beautiful, yet dusty location. If you're comfortable embracing some dust, you're going to have a great time. Pack a bandana, goggles, a dust mask, and any other gear such as a utility belt or holster bag that will help you keep the dust out of your eyes, off your skin and your hands free. Think playa adventure with less sea!

4. Respect the Principles
Burning Man is built on ten principles. These principles are: Radical Inclusion, Gifting, Decommodification, Radical Self-Reliance, Radical Self-Expression, Communal Effort, Civic Responsibility, Leaving No Trace, Participation, and Immediacy. To make the most out of your Burning Man experience, embrace these principles and respect the people you encounter throughout the week. Take the time to really express who you are, show off your unique style and embrace that burner fashion!

5. Arrive Early and Leave Late
The experience at Burning Man starts before it even officially starts. Arriving early allows you to meet and connect with others, and create your own oasis in the middle of the desert. Staying after the event is over also ensures that you will avoid the rush to leave and the long line getting back to civilization. This can also mean that you're around some folks and groups that put on unofficial mini events or an after party.

In conclusion, the Burning Man Festival is one-of-a-kind, unforgettable experience. By taking the time to prepare thoroughly before the event, you'll be able to make the most of the unique community experience. Remember to pack wisely, stay hydrated, embrace the dust, respect the principles, arrive early while leaving late and really adopt the burner lifestyle! Photos will be forever imprints and memories are forever, so soak up the experience and enjoy every moment! 
Festival Lacy Leggings
.
Lotus Utility Holster
.
Ganesh Single Pocket Belt with Leg Strap
.
Pixie Dress
.
Be sure to check out our extensive range of clothing and accessories to ensure you're festival ready this season! Follow the link below for more!