Pirate Retreat Bali - Flow Arts in Paradise
March 07, 2023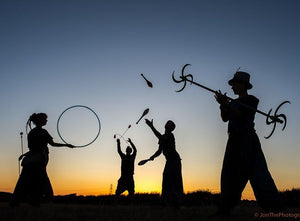 by Aoibhín Sheehy
Arghhhhh me hearties (couldn't resist) are ye ready for the next pirate adventure?? Throw on your flow arts costume, strap on your pocket belt, grab your bags and lets get going on a circus celebration! How does five days of flow arts in Bali sound? Yes please! The pirate retreat in Bali takes place over five days from April 17th to the 21st. The retreat is all inclusive with your meals, accommodation, transport, all flow and circus classes included. Oh and did we mention a heck of a lot of fire!
This flow-filled retreat will be taking place on a private pirate island a couple of hours by boat from Bali. The islands comprises of 17 gorgeous bungalows which are solely rented during the circus retreat! A private island to share, connect and flow in nature with other circus artists sounds pretty spectacular!! The island has all of the luxuries one needs, a restaurant, yoga studio and also has amazing opportunities to head out snorkelling and see the turtle sanctuary. For all of which a comfortable pocket belt is a must!!
The retreat looks to be jam packed with flow arts and circus workshops every day from 9 am to 5.30 pm, featuring acrobatics and yoga classes in the mornings.
This pirate retreat is sure to get you all hot and bothered, with flow arts being at the core of the five days. There will be professional fire spinning and circus arts workshops from a number of international teachers. There will an eclectic mix of workshops from aerial hoop, rope dart, juggling, water acrobatics, trapeze, poi, multi staffs, contact staff and the list goes on!  
But it's not all work and no play, there will be performances and fire jams at night with all the fuel you can burn, music, DJ's, themed party nights and so much more! 
This flow arts retreat at its heart is about training, flowing, pushing the limits, having a blast, and being creative. But most importantly building community in a fun way! 
This looks to be a hot one! So be sure to get your flow arts circus costume ready!! What does a flow arts circus costume look like!? Well to ensure you keep your hands free whilst in the flow we have multiple pocket belts for all tastes and styles. Check these out...
Metatrons Cube Utility Holster Bag
Batman Belt - Hexagon Bee Print
Burner Belt - Flower of Life
Hera Single Pocket Belt with Leg Strap
We also have a beautiful range of clothing & jewellery that can be a wonderful addition to your pirate circus costume.